The appreciation for coffee has been on the rise in Southeast Asia. As the region's urban centers witness a surge in trendy coffee shops and specialty brews, the traditional love for a warm cup of joe continues to flourish. The Philippines, with its diverse coffee culture, plays a significant role in this trend, reflecting the evolving tastes of the region.
The Philippines has long been familiar with the global coffee phenomenon, as evidenced by the staggering 3.3 million 60-kilogram bags of coffee consumed in the archipelago during the 2020/21 period. This consumption trajectory reflects a sustained increase in coffee appreciation over the years, echoing the evolving palates and preferences of its people.
While Philippines coffee trends lean towards urban café culture, the beans however, came from more traditional places, that is deep rooted in age-old traditions and unwavering determination of the people, such as those found in rural areas of West Sumatra, Indonesia. Here, coffee farming, an essential part of the local economy, is not merely a profession but a way of life. The aromatic hints of berries and lychee in the coffee beans are a testament to the rich agricultural heritage of the region.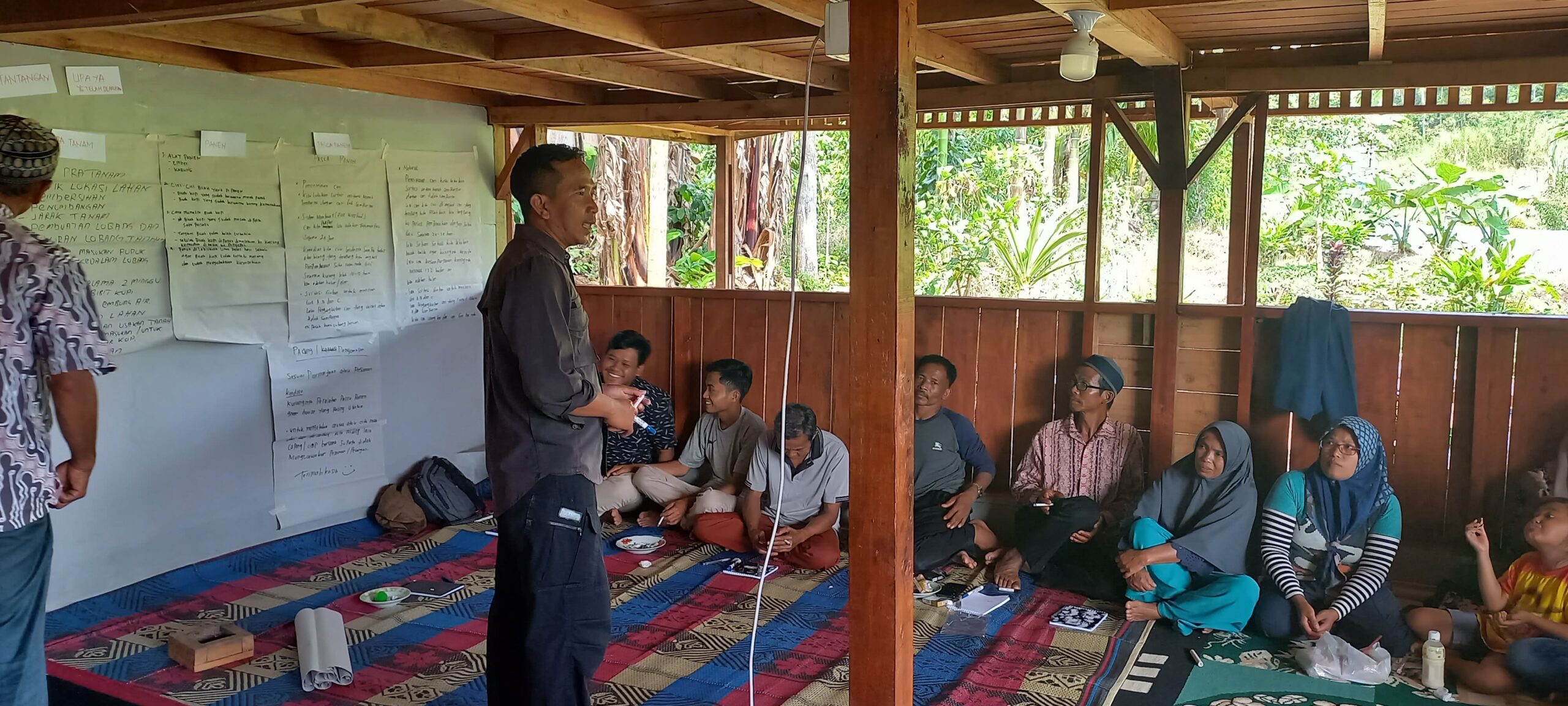 Cultivating Hope: The Journey of South Solok's Coffee Farmers
The breeze from the hills ran through Kasimo's face; a coffee farmer whose farm is a stone's throw away from his cherished Rumah Gadang (Minang traditional house). Kasimo is one of the many coffee farmers located in Nagari Lubuk Gadang, in West Sumatera. The highland is blessed with plenty of rivers making it the coffee cultivated has distinct hints of berries and lychee, according to barista and coffee roasters.
While Solok coffee is well known across the globe, Kasimo's wish remains simple, he wants nothing more than to live decently and to allow the children in his village to receive education. He along with 22 other farmers are part of the initiatives called Kopi Rakyat, the people's coffee, which was initiated by Wahana Lingkungan Hidup Indonesia (WALHI), an environmental organization aimed to empower the farmers despite the challenges of the pandemic and, currently El Nino, the hot weather phenomenon, which threatening the crops.
West Sumatra, Indonesia, has a rich coffee-producing tradition, particularly in regions like Solok, Agam, Lima Puluh Kota, Pesisir Selatan, and South Solok Regencies. In 2021, South Solok Regency boasted 4,583 hectares of coffee plantations, involving 3,310 households. Of these, 2,794 households cultivated robusta coffee, while 516 focused on arabica coffee. Their combined efforts resulted in an impressive 2,922.7 tons of coffee production, cementing South Solok's reputation as the primary coffee-producing region in West Sumatra.
Despite this recognition, South Solok's coffee farmers face ongoing challenges. The lingering effects of the 2020 COVID-19 pandemic have cast a shadow over their livelihoods. They struggled to sell their produce during the harvest season, often receiving unreasonably low prices of PHP 14.29 per kilogram, with delayed payments. These farmers find themselves trapped in a conventional economic system, heavily dependent on chemical fertilizers and pesticides, which burdens them with high costs. Although coffee prices are gradually improving, basic living expenses, such as chili, onions, and cooking oil, have significantly risen. Additionally, coffee production is threatened by various pests and diseases.
"Back then, as coffee farmers, it was disheartening. Some farmers even neglected to harvest coffee. Not to mention taking care of the coffee, they were too lazy even to harvest it. Moreover, the coffee market is monopolized by a few entities who set prices arbitrarily. At that time, we couldn't do much while the prices of basic necessities continued to rise." shared Kasimo, recounting his difficulties.
Brewing Success: Nurturing Sustainable Agriculture
In direct response to the challenges faced by South Solok's coffee farmers, WALHI West Sumatra launched the Coffee Field School on July 13, 2022, at the Sustainable Food Learning Center in Lubuk Gadang. This program is designed to empower these farmers to become land managers by addressing various issues and cultivating innovative solutions, with a focus on seed cultivation, organic fertilizers, pest control, and market stability. Wengki Purwanto, Executive Director of WALHI West Sumatra emphasized "Our Coffee Field School is a direct response to the challenges confronting South Solok's coffee farmers, with the ultimate objective of empowering them as custodians of their land."
The Coffee Field School has been a catalyst for transformation, involving 25 farmers from diverse farmer groups in Nagari Lubuk Gadang. Driven by their fervent desire for change, these farmers came together to form "Kopi Rakyat," a coffee farmers' cooperative that embodies the ethos of coffee created by the people, for the people, and by the people. This cooperative, in conjunction with the Coffee Field School initiative spearheaded by WALHI, has ushered in a brighter future for coffee farmers.
WALHI's Coffee Field School programs prioritize organic farming, marked by the use of cost-effective organic fertilizers, offering a dual solution: enhancing community well-being and combating climate change. These fertilizers, capable of retaining up to five times their volume in water, rejuvenate arid farmlands and improve soil fertility, aiding in drought resistance, nutrient absorption, and production efficiency while ensuring agricultural sustainability. In contrast, chemical fertilizers contribute to soil degradation, greenhouse gas emissions, and climate change.
Testimonials from Kopi Rakyat farmers paint a picture of positive change. The adoption of natural fertilizers has resulted in a noticeable enhancement of coffee quality, creating a ripple effect of rising demand for coffee products and contributing for the good of the environment. Kasimo said "Although it may not yet bear the prestigious label of Specialty coffee, our coffee recently boasts an impressive cupping score, nearing 80".  It proudly holds the designation of premium coffee, a testament to the potential of organic farming practices.
"And, of course, we are immensely pleased to discover that our fruitful efforts have not only brought blessings to us but also contribute to conserving the land, preserving the environment, and assisting in mitigating climate change," continued Kasimo
WALHI not only imparts knowledge on organic farming methods to the farmers but also educates them on the intricacies of coffee farming and processing. Furthermore, farmers gain insight into the economic systems, trade, distribution, and marketing of coffee products. Kasimo emphasizes that today's farmers are becoming increasingly self-reliant. With the knowledge and support they've received, they've managed to maintain their coffee supply even amidst the scorching El Nino summer, showcasing their resilience and adaptability.
Kasimo said with enthusiasm, "Now, the price of Arabica cherry per kilogram can reach up to PHP 50. While prices still fluctuate, it's far better than before. With the knowledge and excellent support we've received, we've even weathered the recent El Niño summer season without significant impact. We, the farmers, are truly overjoyed." These words reflect not just the economic improvement but also the renewed sense of hope and satisfaction among the coffee farmers.
Brewing Hope for the Future
Looking ahead, the coffee farmers of Kopi Rakyat Cooperative aspire to maintain and even accelerate the progress they've achieved. Their hope is that this progress will attract investors to ensure the sustainability of their efforts from farm to market.
"Our aspiration is to see this progress evolve further," says Kasimo. "We aim to attract investments, particularly for equipment, to elevate the quality of our coffee even more, striving for the coveted 'Specialty' recognition. In doing so, we wish to make our coffee known and satisfy the coffee needs not just in Indonesia but across the world. Let's hope." This forward-looking mindset underscores their determination to push the boundaries and realize their dreams of producing top-tier specialty coffee.
WALHI understands that the increasing coffee consumption around the world has also put a pressure on coffee farmers to produce more and more coffee beans. That's why they provide training and guidance so the farmers can cultivate high-quality coffee beans but not sacrifice on the sustainability aspect. "WALHI stands committed to alleviating the burden on coffee farmers while preserving our planet's future. Through education, sustainable practices, and fair compensation, we aim to ensure that every cup tells a story of quality, equity, and origin." closed Wengki.
In the Philippines and across Southeast Asia, the coffee culture is evolving, but the heart of the coffee industry remains the farmers who tend to their crops with dedication and hope. Their story is a reminder that even in the face of challenges, growth and prosperity can flourish, driven by determination, knowledge, and a shared dream. The hills of Nagari Lubuk Gadang echo with these stories of hope, where the legacy of coffee farmers continues to brew, one cup at a time.